I offer a variety of instruments of different types to all levels of musicians, for professional, amateurs and student players…from full size violins down to 1/8th size as well as all sizes of violas and cellos.
In Stock and for sale:
Full size violins;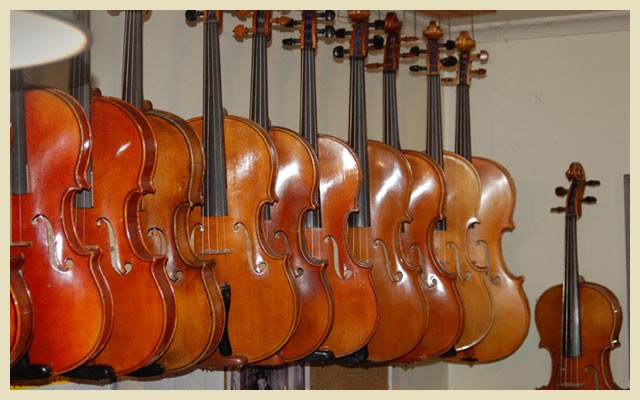 Some individual instruments will be listed below.
A fine violin by Stefano Marcolini, of Milan, Italy, 2004
This is a clean Stradivari model, in near perfect condition.
A fine violin by David Rubio of Great Britain.
Rubio was a passionate violin maker. His violins are being played all over Europe, Asia, and North America. This violin is a fine example. Beautiful one piece back. Full rich tone.
Peresson, Sergio, Haddenfield, New Jersey, 1985.
The violin was made by Sergio Peresson. Peresson was born in Udine, Italy, in 1913. He died in 1991.
He worked for William Moennig from 1963 to 1971 in Philadelphia. He was a prolific maker who counted among his clients Jacqueline DuPré and Rostropovich.
The violin was the property of Stephen Kujawa, who was born in 1921, and died in 2005.
Kujawa was the son of a violin maker Stephen Kujawa, Sr., (1886-1980). Stephen (Jr.) started playing violin at age 4. The violin was made for him by Peresson in 1985, and he played it until he passed away. He studied with Victor Aitay, Co-Concertmaster of the Chicago Symphony. He played as first violin for eight seasons with the Messiah Orchestra under Margaret Hillis, Music Director of the Chicago Symphony Chorus. In 1987, he played first violin in the First American Congress Orchestra conducted by Sir Yehudi Menuhin. The orchestra was based at College Park, Maryland. Stephen performed solo at Carnegie Hall in 1991, playing his Peresson violin.
Thomas Fawick, Cleveland, Ohio, 1957.
Thomas Fawick was a musician, successful industrialist, and inventor, born in 1889. Passionate about music, he owned the famous "Wilhelmj" Stradivarius violin of 1725, named after the great German virtuoso who previously owned it.
Fawick experimented extensively with violin making, using his Stradivarius as a model, and came up with a plan to produce new violins using carefully chosen treated wood. The parts were made in the shop of Paul Hilaire in Paris, and sent to workers in Cleveland, Ohio, where they were varnished and set up.
If you compare the Fawick instruments with the ones from the shop of Hilaire, you can see the same careful workmanship.
This violin is in great condition, and even has its original sound post!
$10,000-$20,000.00
Trimboli, Pietro, Bologna, Italy, 1999
This is a clean authentic Italian violin in excellent condition. Mr. Trimboli is a personal acquaintance.
Haenel, Frederick, Toronto, Canada, 1939
Haenel was born in Saxony, Germany. He started making instruments in 1917. He stopped making instruments in about 1960. During his career, he had violin shops in Winnipeg, Toronto, Buffalo, New York, New York City, and Boston. His instruments were popular in the Philadelphia Orchestra.
Melanson, Raymond- Boston, 1986-
This is a great example of Mr. Melanson's work. It is the Guarneri model that he has developed after many years. It has a beautiful one-piece back, and is tastefully antiqued. Excellent condition. $13,000.
Montanari, Pio, Genoa, Italy, 2007-
Guarneri model, two-piece back. New, mint condition. I first met Mr. Montanari at a convention of violin makers in Ithaca New York. I was impressed by his work, and have stayed in touch for many years. This would be a very good investment. $15,000.00
$5,000-$10,000.00-
Christian Brandenburg, Salt Lake City, Utah, 1997- $5000.00
Tetsuya Kimura, Hellifield, UK. 2006. $10,000 Mr. Kimura was professionally trained in the UK and has his own shop now in Japan.
$2500-$5,000.00-
Scott Zumberge, Minneapolis, 1983-$4000.
Scott Zumberge was a violin maker, repairer, and a bow repairmain in Minneapolis.
John Juzek, Prague, Czechoslovakia, 1956
Anton Sandner, Beubenreuth, Germany, 1971
Franz Sandner, Ranheim, Germany, 1999 $2700
Snow, Beijing, China, 2013 $2800
Heinrich Gill, Bubenreuth, Germany, 2015, $2900
Many instruments are available and will be added soon. Some are new and some are old.
Up to $2500.00-
Karl Herrmann, Erlbach Germany, 1960
West Coast Strings, "Dario Giovanni", 2017, China, one-piece back.
"Camillo Callegari", China, 2017, $1900.00
West Coast Strings, China, "Sandro Luciano", 2008, one-piece back, $1400
Savannah Strings, Beijing China.
3/4 Size Violins;
I have many 3/4 violins in the shop for sale. Prices are from $300.00 to $3500.00. I list just a few here.
A violin from the worksops of Jerome Thibouville Lamy, Mirecourt, France, before 1902. $3000
"Johannes Kohr" K500 1999. $650
A violin by Phan Than Tien (Scott P.) Ho Chi Minh City, Vietnam, with a handsome one-piece back. $600.
Scott Cao, Model STV017E China, 2009, $500
1/2 size violins
Many more violins are available. Prices range from $500 to $2000.00. Call for details.
(651) 698-4692
I currently have 36 3/4 size violins available, along with a great selection of cases and bows. Below are a few of the makers.
"Da Vinci" Sofia Bulgaria, Silvio Marinov, Bulgaria, Scott Cao (several examples), Clemente & Weise, Germany, Scott & Shangming, E. R. Pfretzschner, Bernd Dimbath, Los Angeles Strings "Frank Denti", Phan Thanh Tien, Peter Steinhaus, Johannes Kohr (several examples), Forest.
1/2 size violins;
West Coast Strings "Peter Kaufmann", Avalon, A. R. Seidel, Scott Cao (several examples), Pfretzschner, etc.
1/4 size violins;
Tanglewood Strings, China 2008 $400
Suzuki Nagoya, Japan, $300
K.C. Strings, China, 2006 $300
Juzek,
Andreas Eastman, China, 2005 $800
West Coast Strings "Peccard",
1/8 size violins;
Grottano, Reghin, Romania, $350
Scott Cao, Model GCV.V550 A, China 2009 $440
Mo Ling Song VL 200 $450
1/10 Size Violins-
Scott Cao model 017.
1/16 size violins;
Scott Cao
1/32 size violin-
West Coast String, V-9 2009 made in China, $350