I offer a variety of instruments of different types to all levels of musicians, for professional, amateurs and student players…from full size violins down to 1/8th size as well as all sizes of violas and cellos.
In Stock and for sale:
Full size violins;
A violin made by Andrea Cortese, 1926. This is a vintage Italian violin. Call for price.
A violin made by Lothar Meisel, Owatonna, Minnesota, 2002. Lothar was the last of nine generations of a German violin making family. This one is in great condition, and is one of the nicest violins I've seen from Mr. Meisel.
Don't confuse Lothar Meisel with the commercially made Meisel violins. Those are a different family of makers. This one was made entirely by Lothar alone and is much better quality.
Seven vintage violins by Minneapolis maker Mathias Dahl between 1939 and 1973. Call for availablity and prices. Mr. Dahl was one of the most successful violin makers of his era. He made a large number of instruments, and had the most important violin shop in Minneapolis. Many professional players have used his instruments. call for prices and availabliity.
$10,000-$20,000.00
A fine violin by Geary Baese; $16,000.
Geary Baese is one of the most interesting figures in American violin making today. He has taught countless masterclasses in violin making and in making varnish. He wrote the book "Classic Italian Violin Varnish". This violin was made by Geary in 1993. Many of the finest Luthiers working now studied at some time with Geary Baese. This beautiful violin by Geary has a powerful and clear sound. It was made in collaboration with his friends Joseph Curtin and Greg Alf.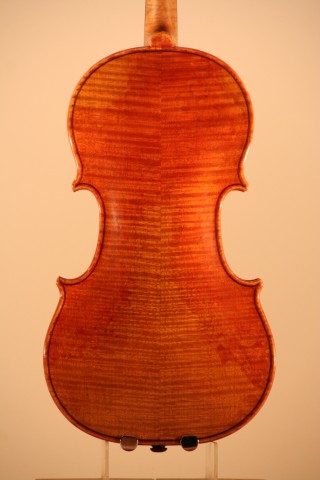 Azzo Rovescalli, 1927. Rovescalli was born in Cremona, Italy, in 1880, and died in Milan in 1941. He worked in Milan. He completed more than 300 violins and several violas and cellos. This violin has a beautiful one-piece native Italian maple back. $15,000
Trimboli, Pietro, Bologna, Italy, 1999
This is a clean authentic Italian violin in excellent condition.
Haenel, Frederick, Toronto, Canada, 1939
Melanson, Raymond- Boston, 1986-
This is a great example of Mr. Melanson's work. It is the Guarneri model that he has developed after many years. It has a beautiful one-piece back, and is tastefully antiqued. Excellent condition. $16,000
Montanari, Pio, Genoa, Italy, 2007- Guarneri model, two-piece back. New, mint condition. I first met Mr. Montanari at a convention of violin makers in Ithaca New York. I was impressed by his work, and have stayed in touch for many years. This would be a very good investment. $15,000.00
Monnig, Fritz, ca. 1920-1930, Markneukirchen, Germany.
From the Brompton's Gook of Violin and Bow Makers book-
Monnig, Fritz b.1890 Markneukirchen. Pupil of M. Schmidt, worked for A Hollinger in Kiel, G. Winterling in Hamburg, and Hammig in Berlin. Master of the Luthiers guild 1913. Fine copies of classical models. Highly regarded repairer anbd restorer."
Muller, Albert Carl,
This violin was made in Sacramento, California, 1980. It was played for many years by a professional musician in Nebraska. Muller was at one time the west coast representative for Emil Herrmann. He made more than 200 violins, about 50 violas, and 20 cellos. Professional maker, winner of multiple international awards.
$5,000-$10,000.00-
Christian Brandenburg, Salt Lake City, Utah, 1997- $5000.00
Tetsuya Kimura, Hellifield, UK. 2006. $10,000 Mr. Kimura was professionally trained in the UK and has his own shop now in Japan.
Roth, Ernst Heinrich- Markneukirchen, Germany- 1924
Ernst Heinrich Roth, Markneukirchen, Germany, 1927 $8000.00
Steven Tillingast Cundall, Aubrey, Texas 2008- $7500 Mr. Cundall grew up in his father's violin shop in Texas. He furthered his training at Bein and Fushi in Chicago.
Wenzel Fuchs, Eltersdorf.b.Erlangen, Germany, 1958 $5000
$2500-$5,000.00-
Scott Zumberge, Minneapolis, 1983-$4000. Scott Zumberge was a violin maker, repairer, and a bow repairmain.
Wenzel Fuchs, Eitersdorf B. Erlangen, Germany, 1958
John Juzek, Prague, Czechoslovakia, 1956
Anton Sandner, Beubenreuth, Germany, 1971
Franz Sandner, Ranheim, Germany, 1999 $2700
Walter Mahr, Beubenreuth, Germany, 1999 $2500.00
Snow, Beijing, China, 2013 $2800
Heinrich Gill, Bubenreuth, Germany, 2015, $2900
Workshop of multiple award winner Ming Jiang Zhu, Guangzhu, China, 2015- $3800
Workshop of multiple award winner Ming Jiang Zhu, Guangzhu, China, 2016, $3600
Workshop of multiple award winner Ming Jiang Zhu, Guangzhu, China, 2015, $3800
Vlado Tilev, Sofia Bulgaria, 2017, $4000.00 one-piece back, Guarneri model. SOLD
Many instruments are available and will be added soon. Some are new and some are old.
Up to $2500.00-
Karl Herrmann, Erlbach Germany, 1960
Sun San, Chicago, 1988, $700.00
Plamen Maslev, Sofia, Bulgaria, $750.00
Tanglewood Strings, China, $770.00
West Coast Strings, "Paolo Lorenzo", China, 2012 $790.00
Snow (workshop of Xueping Hu) Beijing, model SV100 $800.00
"Fire Phoenix", model FV400 China, 2015 $800
"Great Wall Violins" Guarneri model, one-piece back, China, 2016 $900.00
"Great Wall Violins" Guarneri model one-piece back, China, 2014 $900
"Revelle" Model 600 2014 $938.
Snow Model SV200 Beijing, China, 2002 $950
Century Strings model V650 China, 2014 $1360
West Coast Strings, "Dario Giovanni", 2017, China, one-piece back.
"Camillo Callegari", China, 2017, $1900.00
West Coast String, China, "Sandro Luciano", 2008, one-piece back, $1400
Frantisek Herclik, Sedlec Czech Republic, 1939, $2000.00
Savannah Strings, Beijing China.
3/4 Size Violins;
I have many 3/4 violins in the shop for sale. Prices are from $300.00 to $3500.00. I list just a few here.
A violin from the worksops of Jerome Thibouville Lamy, Mirecourt, France, before 1902. $3000
"Johannes Kohr" K500 1999. $650
A violin by Phan Than Tien (Scott P.) Ho Chi Minh City, Vietnam, with a handsome one-piece back. $600.
Scott Cao, Model STV017E China, 2009, $500
1/2 size violins
Many more violins are available. Prices range from $300 to $2000.00. Call for details.
(651) 698-4692
I currently have 36 3/4 size violins available, along with a great selection of cases and bows. Below are a few of the makers.
"Da Vinci" Sofia Bulgaria, Silvio Marinov, Bulgaria, Scott Cao (several examples), Clemente & Weise, Germany, Scott & Shangming, E. R. Pfretzschner, Bernd Dimbath, Los Angeles Strings "Frank Denti", Phan Thanh Tien, Peter Steinhaus, Johannes Kohr (several examples), Forest.
1/2 size violins;
West Coast Strings "Peter Kaufmann", Avalon, A. R. Seidel, Scott Cao (several examples), Pfretzschner,
1/4 size violins;
Tanglewood Strings, China 2008 $400
Suzuki Nagoya, Japan, $300
K.C. Strings, China, 2006 $300
Juzek,
Andreas Eastman, China, 2005 $800
West Coast Strings "Peccard",
1/8 size violins;
Grottano, Reghin, Romania, $350
Scott Cao, Model GCV.V550 A, China 2009 $440
Mo Ling Song VL 200 $450
1/10 Size Violins-
Samuel Eastman, VL 80 $350
1/16 size violins;
Scott Cao
1/32 size violin-
West Coast String, V-9 2009 made in China, $350