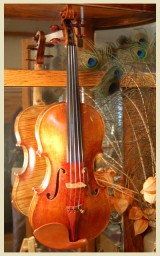 I carry a wide array of instruments and bows for professional, amateur and student players…from full size violins down to 1/8th size as well as all sizes of violas and cellos. Check the individual listings for Violins, Violas, and Cellos in their own sections of my website for a more complete listing.
Check individual categories for more detailed descriptions of instruments and bows.

In Stock and for sale:
Children's sizes, from 1/32 size up to full size.
Looking for a 3/4 size violin?
I currently have 36 3/4 size violins available, along with cases and bows!
Full size violins:
Peresson, Sergio, Haddenfield, New Jersey, 1985.
The violin was made by Sergio Peresson and was the property of Stephen Kujawa, who was born in 1921, and died in 2005. Kujawa was the son of a violin maker Stephen Kujawa, Sr., (1886-1980). Stephen (Jr.) started playing violin at age 4. The violin was made for him by Peresson in 1985, and he played it until he passed away. He studied with Victor Aitay, Co-Concertmaster of the Chicago Symphony. He played as first violin for eight seasons with the Messiah Orchestra under Margaret Hillis, Music Director of the Chicago Symphony Chorus. In 1987, he played first violin in the First American Congress Orchestra conducted by Sir Yehudi Menuhin. The orchestra was based at College Park, Maryland. Stephen performed solo at Carnegie Hall in 1991, playing his Peresson violin.
Peresson was born in Udine, Italy, in 1913. He died in 1991. He worked for William Moennig from 1963 to 1971 in Philadelphia. He was a prolific maker who counted among his clients Jacqueline DuPré and Rostropovich.
Cortese, Andrea, 1953.
Hickerson, Vernon, 1969.
Hickerson, Vernon, 1982.
Melanson, Raymond, Boston- 1986, Guarneri model.
Montanari, Pio, -Genoa, Italy, 2007 Guarneri model
Frederick Ewald Haenel 1939. Made for The Rudolph Wurlitzer company. Stradivari model.
Rossow, Steve, Saint Paul, Mn. 2012.
Roth, Ernst Heinrich- Markneukirchen, Germany
Monnig, Fritz, ca. 1920-1930, Markneukirchen, Germany. Fritz Monnig was born in 1890 in Markneukirchen, and worked in Hamburg, and Berlin before earning his masters degree in 1913. He is a highly regarded maker.
Mathias Dahl violin- Minneapoils- 1949, Stradivari model
Mathias Dahl violin- Minneapolis- 1959, Stradivari model
Mathias Dahl violin- Minneapolis- 1966 Guarneri model
Mathias Dahl violin- Minneapolis- 1966 Amati model
Mathias Dahl violin- Minneapolis-1953 Guarneri model, two piece back. Great condition.
Albert Carl Muller violin- Sacramento, Ca. 1980
Meisel, Kurt Lothar, Owatonna, Mn. 2002
Thomas Fawick, Cleveland, Ohio, 1957.
Violas:
Two Mathias Dahl violas- Minneapolis- 1951, and 1967-
These two violas were built by Dahl on his own model. The viola he made in 1951 is pictured in the book "Violin and Bow Makers of Minnesota" a publication of the Schubert Club Museum.
Brian Skarstad viola- New York-
A viola showing inspiration from the Brescian influence (Giovanni Paolo Maggini, and Gaspar Da Salo). The viola has a beautiful one piece maple back, with matching sides, neck, and scroll.
15" Violas:
"Santuro Lucci" West Coast Strings-China- 2003 $1600.00
15 1/2' VIOLAS:
Workshop of Steven Cundall, Texas- "Giorgio Luigi Belloso" 2004 $4200.00
Workshop of Steven Cundall, Texas- "Giorgio Luigi Belloso" 2006 $4580.00
15 1/2" -16 1/8" Violas-
A fine viola by Edwin Halloran, Chicago. 15 7/8". Edwin has a knack for making a comfortable to play viola with a great sound.
Scott, William Robert - Viola, 16 3/8". Made in Minneapolis in 1999. A fine example of Bill's work.
Yang, Peter, Wilmette, Illinois, 2006. 15 1/2"
-------------------------------------------------------------------------------------------------------------------------------------------
I have many more 16" violas. I just haven't listed them. I will add more as I have time.
Full size violin bows by such makers as, Roger Zabinski, Lee Guthrie, Matthew Wehling, David Forbes, Manoel Francisco, Joseph Halligan, Martin Beilke, Arcos Brasil, Alfred Knoll, J. P. Gabriel, Horst John, Marco Raposo, Erich Steiner, Alfred Knoll, and many others.
My inventory of older bows includes bows by many different makers including, Francois Nicholas Voirin,Louis Morizot, Martin Beilke, Silvestre and Maucatel, W.E.Hill &Sons, and many more.
Please call for current availability.
My inventory of new violins usually currently instruments by many different makers. You will find instruments by contemporary American makers such as Chris Germain, Steve Rossow, Lisbeth Nelson Butler, and George Yu of Canada,
I am currently offering Italian violins-
Pio Montanari- Guarneri model violin made in Genoa. This is a new violin and has not been antiqued. The price is $16.000.00. Comes with a certificate from the maker.
Cellos:
A cello made by William Scott and John Waddle in 1995. Modelled after a 1730 Montagnana cello.
A fine Italian cello from the workshop of Ettore Soffritti, in Ferrara. This professional level cello was played for many years by the same person, and is only recently for sale. Call for price.
Christopher Dungey, made in Boulder, Colorado in 1996. This is a professional level cello.
Zumberge, Scott, Minneapolis, 1982. The sound of this cello is warm and full.
Mathias Dahl, Minneapolis, 1942.
Paul Hart, Salt Lake City, 1996,
Phillip Soltis, Northfield, Mn. 2014.
Clemente & Weise, Bubenreuth, Germany, 2004.
Wenzel Fuchs, Germany, 1969
Instruments and bows are available in most price ranges. if you don't see what you are interested in listed, please call or send me a message. I may have what you need.