Cellos currently for sale
This cello is labelled "Aegidius Kloz in Mittenwald an der Iser 1665". The Kloz family of violin makers were influenced by Amati and Stainer, and you can see both of these influences in this cello. It is rare to find a cello of this age in this good condition.
The dimensions are;
Length of the body, measured over the arch-74.9 cm (29 1/2").
String length- 67.6 cm. (26 5/8"). Upper bout width-34.4 cm. Middle bout width-23.5 cm. Lower bout width- 43.2 cm. Call for price and availability.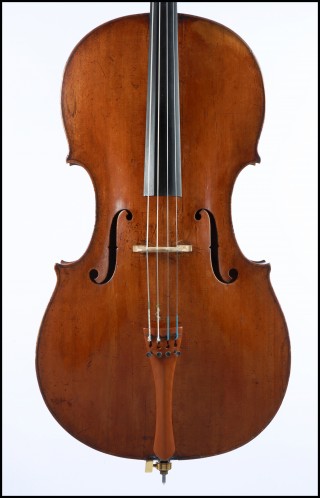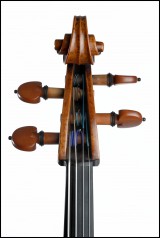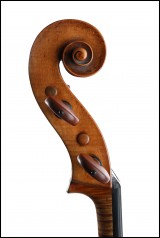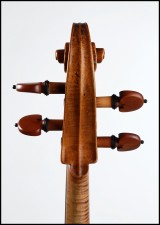 | | |
| --- | --- |
| | A cello by Stefano Gibertoni, of Milan, Italy. It was made in 2008. It is currently available. This is a professional level cello. Stefano is a fine, award winning, professional maker of beautiful instruments for serious musicians. I am pleased to offer this beautiful cello. |
.
Full Size Cellos;
$30,000-$40,000-
Stefano Gibertoni- Milan, Italy, 2008, Modelled after Francesco Ruggieri. See above.
$20,000-$30,000-
Paul Hart, Salt Lake City, Utah- a modified Stradivari model.
The label on the inside reads,"Paul Hart #355 Salt Lake City Made 1996"
The two-piece quarter cut maple back has medium narrow curl slanting slightly downward from the center seam. The sides, neck and scroll match the back.The top is spruce of medium grain. The varnish is reddish brown, shaded to golden amber. The length of the body is 75.2 cm.
Gene Michael Scoggins- Salt Lake City, Utah- 1993.
$10,000-$20,000-
$5,000-$10,000-
Workshop of Steven Cundall, "Lucca Bassi"- Texas-2008-Solde
Clemente and Weise, Bubenreuth, Germany-2008
"Camillo Calligari" Stradivari model, 2010, Made in China.
Mathias Steffens, Germany, 2008
Stohr, Illner, and Riedl, Germany, 1992
$1800-$5000-
West Coast String Instruments, "Paolo Lorenzo" 2009, made in China.
Musaica Imports, "Conservatory" 2011, Made in China.
Musaica Imports, "Master Art", 2010, Made in China.
7/8 size cello-
Paul Hart, Salt Lake City, Utah, 1986
3/4 size cellos-
"Gunter Von Aue" Cologne, W. Germany-
1/2 size cellos-
John Juzek, Germany
1/4 size cellos-
Instruments and bows are available in most price ranges. if you don't see what you are interested in listed, please call or send me a message. I may have what you need.