Cellos currently for sale
We are now offering a fine cello by Domenico Montagnana, made in Venice in 1730. For more information on the Montagnana, please see the page dedicated to this cello in the website.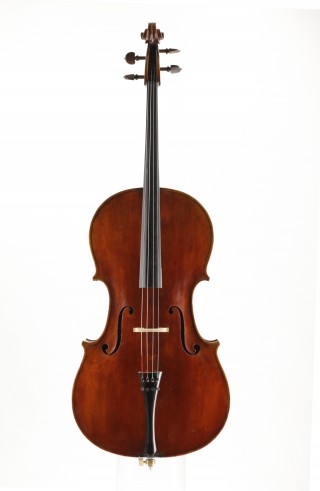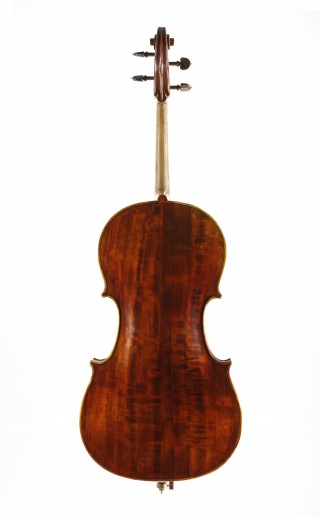 A fine, and interesting Italian cello from the workshop of, and attributed to Ettore Soffritti, of Ferrara, Italy, labelled 1908.
Soffritti was born in 1877, in Ferrara, Italy, and died in 1927. He learned violin making from his father, Luigi Soffritti. He left behind many pupils and followers in Ferrara, including Anselmo Gotti, Ernesto Pevere, and Gaetano Pareschi.
The cello has a striking and beautiful Lombardy poplar back with matching sides. The top is spruce, and the original neck and scroll are native Italian maple. It has a beautiful dark reddish brown color.
The cello's current owner purchased it in 1977 in Washington, DC., and played it until she brought it to me to sell for her.
She played in various orchestras in the U.S. Warsaw, Poland, Netherlands, and Germany, and taught countless students how to play the cello.
She says she "wants a cellist to let this instrument sing. He (the cello) already knows the orchestra repertory. I want this instrument to bring joy and passion to the next player the way he has for me".
If you would like to come and play this cello, please call for an appointment. 651 698-4692.
Other cellos that are available are below,
$10,000-$20,000, and up-
Scott Zumberge, Minneapolis, 1982. The sound of this cello is warm and full.
Matthias Dahl, Minneapolis, 1942 "The Dahl Stradivarius". This cello is pictured in the book "Violin and Bow Makers of Minnesota", a publication of the Schubert Club Museum.
Mathias Dahl, Minneapolis, 1965, "The Dahl Stradivarius". Great condition.
Paul Hart #355 Salt Lake City Made in 1996", Stradivari model, Great condition.
Philip Soltis, Northfield, Minnesota, 2014. Mint condition.
$4,000-$10,000-
"Camillo Callegari" China, 2010, Stradivari model.
Ming Jiang Zhu, Guangzhou, China, 2014, Montagnana model. Very good sounding! Beautiful looking.
Musaica, China, 2010. Very good conditon.
Bernd Dimbath, Bubenteuth, Germany, 2003, Great condition.
Stohr, Illner, and Riedl, Germany, 1995, Dark Reddish brown color.
West Coast String Instruments, "Vito Rossi" China, 2014,
Wenzel Fuchs, Erlangen, Germany, 1969.
$1800-$5000-
West Coast String Instruments, "Vito Rossi" China, 2009
Clemente and Weise, Bubenreuth, Germany, 2004. Excellent condition.
Ivan Dunov, Reghin, Romania, 2008, Storioni model.
Jay Haide, China, "L'Ancienne", 2016
7/8 size cello-
Paul Hart, Salt Lake City, Utah, 1986
3/4 size cellos-
"Gunter Von Aue" Cologne, W. Germany,
Scott Cao, China
"Forest", China,
Colin Wultur,
Andreas Eastman, China, 2011 VC 405.
1/2 size cellos-
John Juzek, Germany, Eastman
1/4 size cellos-
Instruments and bows are available in most price ranges. if you don't see what you are interested in listed, please call or send me a message. I may have what you need.