Cellos currently for sale
------------------------------------------------------------------------------------------------------------------------------------------------------------------------------------------------------------------------------------------------------
Featuring a Cello made by William Robert (Bill) Scott, and John R. Waddle in the year 1990.
Robert Jamieson (Bob) acquired his Montagnana cello in 1988, and Bill and John made a copy of it together. Bob bought the copy from us, and played it for many years during the remaining time he was in the Minnesota Orchestra, and after he retired. He enjoyed playing on it and often talked aout it being easier to play than the Montagnana. Bob took very good care of the cello until he passed away. The cello is available now.
I chose the very best wood for this cello. I am excited to offer it to you! Please call for an appointment soon!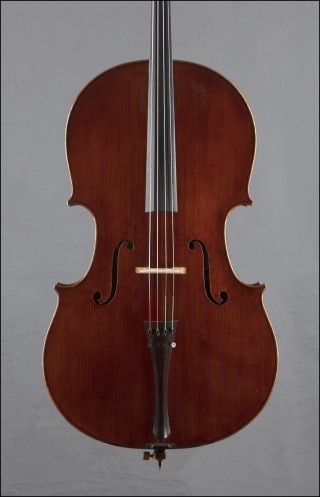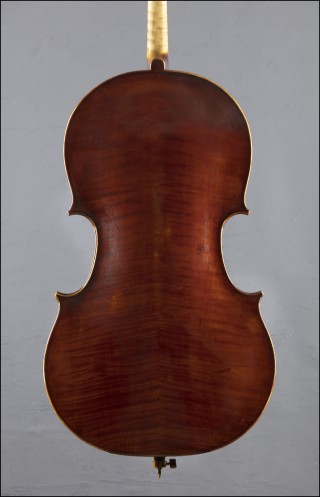 Other cellos that are available are below,
$10,000-$20,000, and up-
Christopher Dungey, Boulder, Colorado, 1996. This cello was made for a professional cellist in a symphony orchestra in Canada and played for many years unitl she retired. Please call for an appointment to come in and try it! $55,000.00
Scott Zumberge, Minneapolis, 1982. The sound of this cello is warm and full.
Matthias Dahl, Minneapolis, 1942 "The Dahl Stradivarius". $43,750.00
This cello is pictured in the book "Violin and Bow Makers of Minnesota", a publication of the Schubert Club Museum.
-------------------------------------------------------------------------------------------------------------------------------------------
Paul Hart Cello #355. Made in Salt Lake City in 1996, Stradivari model, Great condition. Paul made this cello on the famous Stradivari Forma B model. The wood is excellent. Paul Hart is a much admired contemporary maker. He has won many awards and taught violin making to many younger makers (including me!) This is a great cello!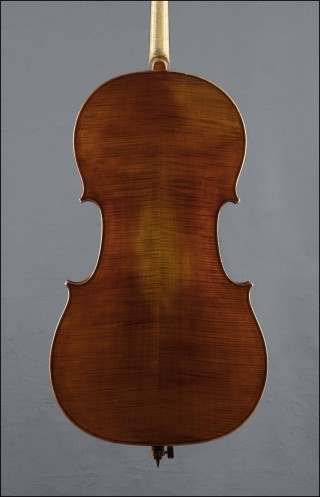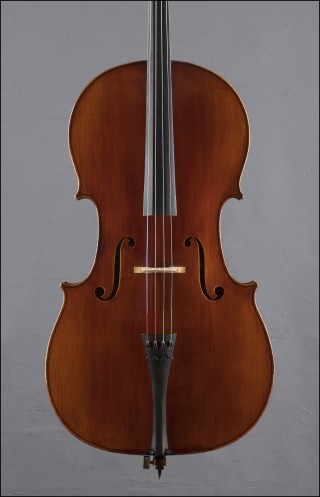 $4,000-$10,000-
Savannah Strings, both Stradivari and Montagnana models.
Musaica, China, 2010. Very good conditon.
Stohr, Illner, and Riedl, Germany, 1995, Dark Reddish brown color.
West Coast String Instruments, "Vito Rossi" China, 2014,
Wenzel Fuchs, Erlangen, Germany, 1969.
$1800-$5000-
Savannah Strings, both Stradivari and Montagnana models.
West Coast String Instruments, "Vito Rossi" China, 2009
7/8 size cellos-
All of these cellos have smaller dimensions, smaller than full size, but bigger than 3/4 size.
Paul Hart, Salt Lake City, Utah, made in 1986. A great cello for someone looking for a slightly smaller cello with a big sound! Call for price.
A cello by Sebastian Schelle, Nurnberg, Germany, made in 1741. Well restored. Reasonably priced.
A cello by Mathias Dahl, Minneapolis, Minnesota, made in 1959. The cello was made for Elizabeth Close, an architect, who was an avid amateur cellist and was a founding member of the Civic Orchestra of Minneapolis and was fond of playing chamber music.
3/4 size cellos-
"Gunter Von Aue" Cologne, W. Germany,
Scott Cao, China
"Forest", China,
Colin Wultur,
Andreas Eastman, China, 2011 VC 405.
1/2 size cellos-
John Juzek, Germany
Eastman strings
1/4 size cellos-
Instruments and bows are available in most price ranges. if you don't see what you are interested in listed, please call or send me a message. I may have what you need.