Violas range in size from very large ones at 17 inches or more, down to even 13" violas for kids.
I have many violas in a variety of sizes, models, and price ranges. I list some here. I try to keep the list up to date, but check with me if are looking for something.
Violas:
15" Violas:
Savannah Strings- Gasparo Da Salo models. Various sizes.
"Avalon Prodigy" Beijing, China, 2004 $1800
"Carl De Luca" West Coast String Instruments, China, 2014
"Santoro Lucci" West Coast Strings-China- 2003 $1600.00
Workshop of Ming Jiang Zhu, Guangzhu China, 2016 $3300.00 various sizes available
15 1/2" VIOLAS:
Savannah Strings, Gasparo Da Salo models.
A fine viola by Peter Yang of Chicago, 2006
Workshop of Steven Cundall, Texas- "Giorgio Luigi Belloso" 2006
Workshop of Ming Jiang Zhu, Guangzhu, China,
Andreas Eastman
16" Violas:
Alkis Rappas;
Alkis S. Rappas started taking private violin lessons at the age of nine. He received formal violin training at the Bucharest George Enescu School of Music for three years studying with Mirca Vasilescu, a student of George Enescu and Carl Flesch. At the age of seventeen, Alkis decided to pursue a career in Chemical Engineering and Chemistry, and continued playing violin in community orchestras and for his own enjoyment. He completed undergraduate studies in Chemical Engineering at the Bucharest, Romania, and the Athens, Greece, Polytechnic Universties. After receiving a Ph.D. from Yale University in Engineering and Applied Science, he embarked on a successful and highly rewarding career as an R&D engineer and inventor fo the next 40 years.
Alkis started violin making in the early 1980's, inspired by the acoustical research of Carleen Hutchins. He attended workshops to learn more about Hutchins work with Ed Campbell's Chimneys Violin Workshops in Tucson, AZ, to learn more about the practical applications of acoustics in violin making. This started a full time parallel violin making career to the one in engineering and R&D.
I 1992, Alkis was invited to learn from Vahakn Nigogosian, "Nigo", who worked at the Wurlitzer along side Simone Sacconi. Nigo started the Oberlin Violin Restoration Workshop, which had begun a few years earlier. Nigo taught at Oberlin until his passing in 1997. The Oberlin workshops continue, with the violin making workshop being under the excellent direction of Christopher Germain. There, along with now many of the most successful Luthiers of our generation, Alkis has gradually gained information, data, techiques, tools, examination and analysis of classical Italian masterpieces, and research at the highest levels.
Alkis has learned to appreciate and apply in his own making the key elements of the Italian making traditions, style, character, and tonal qualities. Being an accomplished player himself enables Alkis to assess the tonal qualities of his own creations.
Alkis makes violins and violas intended for professional musicians, advanced students and passionate amateur players. The tonal and artistic qualities of these instruments result from the melding of both traditional Italian violin making methods and principles, and modern day research on the acoustics of violins and violas. Alkis has been rewarded many awards for his instruments, including silver medals for tone. His focus now is totally on violin and viola making.
I am pleased and honored to offer a 16 inch viola in my shop, made by Alkis Rappas. Please call for an appointment to try it.
There is much more to the story of this viola.
Alkis told me about going to Italy to buy wood from the best wood dealers, and choosing wood with his Italian friend Luca Primon. He told me about the time it takes to make the varnish and apply it himself. He told me about drawing the viola himself, with input from other maker friends at Oberlin, using classical proportions and dimensions in the style of the Italian masters.
Gustav August Ficker, Germany, 1965
Roman Teller, Germany, 1979
Steven Cundall Workshop, Texas, 2006
Workshop of Ming Jiang Zhu, Guangzhu China 2016 $3400.00 Mr. Zhu is a multiple award winner at VSA competions.
"Vito Rossi", West Coast String Instruments, China, 2016 $2500.00
"Avalon" "From the bench of Guy Cole", 1999. $4000.00
Savannah strings, Gasparo Da Salo models.
16 1/8 "to 16 1/4" Violas;
----------------------------------------------------------------------------------------------------------------------------------------------
16 1/8" Viola made by John R. Waddle in 1992.
I was inspired by a 1715 Stradivari viola when I made this one.
I sold it to a local professional violist, who was a player and teacher, who used it until just recently and it was time for her to pass it on. Not antiqued, but naturally aged. This viola is easy to play, responsive, and has a rich deep tone. It's available. Call me if you want to come in and try it!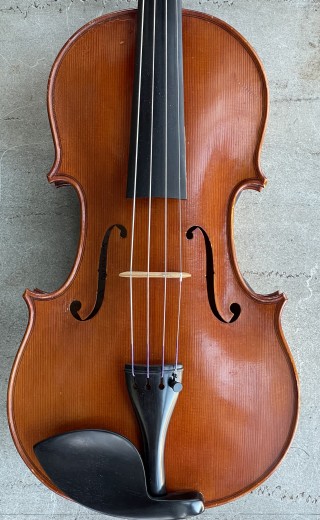 -----------------------------------------------------------------------------------------------------------------------------------------------
A fine viola by Paul Alexander Mangenot, 1910.
Paul Mangenot
b. 1862.d.1942 Mirecourt France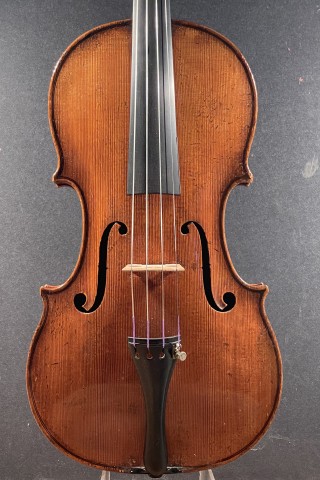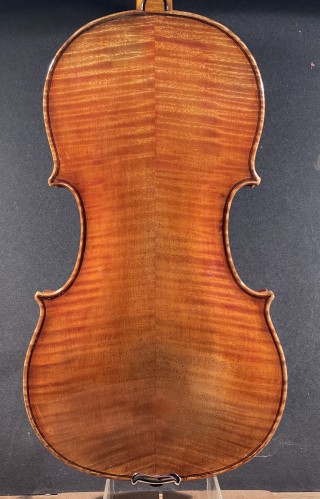 From the Brompton's Book of Violin and Bow Makers, by John Dilworth.
Apprenticed to Justin Derazey. Mangenot also made cellos for Collin-Mezin. Worked for Pierre Hel in Lille. Spent time working in shops in Brussels, Geneva, Lyons, and Paris. He returned to Mirecourt in 1888 and acquired the business of Derazey. He owned the rights to the trade names of D. Nicalas aine and Honore Derazey, and Mangenot continued these lines with the aid of several craftsmen in his employ.
In 1920, these names were sold to Laberte. Mangenot thereafter made only his own labelled instrumetns. He was a prolific maker of violins, violas, cellos and double basses in the Mirecourt tradition. He used classical models.
The viola was certified by Wllliam Moennig in Philadelphia in 1962, when they sold the viola to the current owner. The condition is excellent.
The length of the back is slightly over 16 1/8" 41.1 cm.
The width of the upper bout is 19 cm.
The width of the middle bout is 13.3 cm.
The width of the lower bout is 23.3 cm.
The string length is 37.8 cm.
Call for price and more information.
----------------------------------------------------------------------------------------------------------
16 1/4" viola from Pablo Alfaro from Atlanta, Georgia. Pablo has won many awards, and is a fine musician as well as a fine maker.
16 1/2" Violas
William Robert Scott, Minneapolis, 1999. $16,000.00. The body length is 16 5/16". The string length is 14 3/4" (or 375 mm). Bill Scott is one of the best of the current American makers and is a multiple award winner at VSA competitions, having achieved the coveted "Hors Concours" status with the Violin Society of America.
Ming Jiang Zhu, China, modleled after Andrea Guarneri
Savannah Strings all sizes, Gasparo Da Salo models.
16 5/8" Violas
A Viola by Benjamin Ruth, Boston, 1998-
Maggini Model, 16 5/8" body length. 375 mm string length.
This viola, previously owned, was made on a model of Giovanni Paolo Maggini, which has been proven to have excellent tone.
One piece back, of striking slab cut maple, which contributes to gives the viola a rich, deep, darker sound. matching ribs, neck, and scroll.
Excellent aged Spruce for the top.
Ben won a gold medal at the Violin Society of America for a viola made on this model.
Ben has now been making violins, violas, and cellos in the Boston area for more than 30 years.
Call for price and availablity.
__________________________________________________________________________________
A fine viola by Brian Skarstad of New York.
Maggini model.