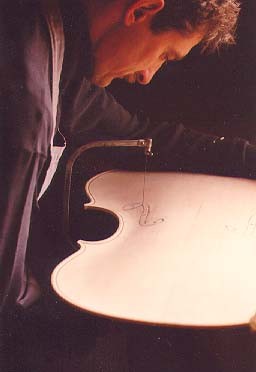 I do make violins, violas, and cellos, I also own and operate a full service violin shop. I carry instruments and bows for students as well as for amateurs and professionals. I also carry strings and accesories, cases, and fittings.
One of my basic philosophies is that every day, thousands of violins, violas, cellos, and bows are made in the world. Most countries have people engaged in making violins. Out of all of these instruments and bows, some turn out exceptionally well, some are not very good, and the rest are somewhere in between. My job, as I see it, is to find and acquire the best instruments and bows, assess them, repair or adjust them if they need it, and offer them to you. Each instrument and bow I offer has been systematically and thoroughly checked, adjusted, and made to sound as well as possible.
I am constantly trying to improve my shop, my skills, my knowledge, and my experience.

By Appointment
Evaluating and purchasing a musical instrument is a personal process and requires ample time. That is why my shop hours are by appointment. This allows me to work with each customer individually. I enjoy getting to know my customers. Over time, I learn how best to meet each musician's needs. We work together to find the instrument and bow that allow you to create the sound you wish to achieve. To make an appointment, just call me at 651-698-4692. If need be, leave a message and I will return the call as soon as possible. I will be happy to meet you and work with you.