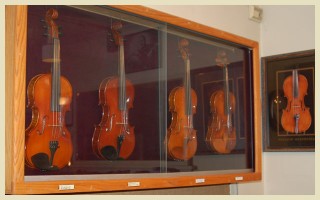 Label:
Usually a piece of paper, glued on the inside of the instrument, visible through the bass side f-hole. The label should identify who made the instrument, or what shop it was made in, where it was made, and the year it was made. Sometimes written directly on the wood or burned into the wood on the inside of the back. A violin with its original un-altered label will be a better investment than a violin with no label or a false label.
Luthier:
Someone who makes Lutes, Guitars, Violins, Violas, Cellos, or other stringed instruments.

Handmade:
A term for an instrument which was made completely by one person who made all the main parts primarily without the use of power tools. Handmade instruments cost more and are a better investment than commercial instruments.

Commercially made:
Instruments made in a factory or on an assembly line.

Consignment:
The sale of an instrument not owned by the seller for an agreed fee.

Commission:
Any form of compensation given to a third party other than the buyer of the instrument by the seller of the instrument. The compensation can be in the form of cash, goods, services, gift certificates for merchandise or services, or favors.

Certificate of Authenticity:
A document stating who the instrument was made by, where it was made, and when it was made. The certificate should give a description and measurements of the instrument. The best certificate is one from the maker with photographs of the instrument.

Written Appraisal:
A document written by an expert giving a description and measurements of an instrument and an opinion of the cost to replace the instrument, or market value. The appraisal should give an opinion about the current state of condition of the instrument.